Allison Miller – Glitter Wolf (Royal Potato Family)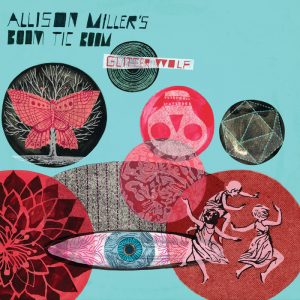 Accomplished drummer/composer Allison Miller's Boom Tic Boom project returns with the follow up to 2016's first-rate Otis Was A Polar Bear with an even more cohesive set in Glitter Wolf. The group, audibly strengthened by a heavy touring schedule, has revealed the elusive pot of gold at the end of the rainbow that can only come from technically advanced performances within the realm of serving the music.
Miller, along with violinist Jenny Scheinman, cornetist Kirk Knuffke, clarinetist Ben Goldberg, bassist Todd Sickafoose and pianist Myra Melford has assembled a quilt of so many of the elements that make music worthwhile: hooks galore, frisky Frisell-ian melodies, optimal expressivity, swinging grooves, and astounding execution. Taking inspiration from the #MeToo Movement and Black Lives Matter, Boom Tic Boom are operating on a much-appreciated spiritually conscious level that belies so much of the divisive trash heap that is 2019 existence in the US. On top of all that, the recording, produced by Julie Wolf ("glitter wolf"?) at Fantasy Studios in Berkeley, CA is masterfully present and virtually tangible.
Check Miller's site regularly as she is nearly always bringing her thing to the people in a town near you. GW is a total blast, and I can only imagine it would be even more rewarding to experience live!
learn more at Miller's site and Royal Potato Family and buy at your local record store, bandcamp, or Amazon
Quinsin Nachoff's Flux – Path of Totality (Whirlwind Recordings)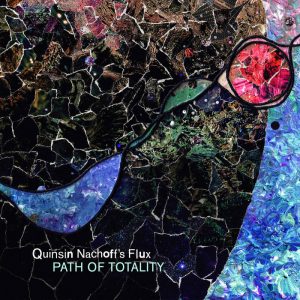 The title of the sophomore release from Quinsin Nachoff's Flux, Path of Totality, takes its name from the moon's total eclipse of the sun back in 2017, an event that brought the world together in observation of a fleeting totality of darkness. Likewise, the moniker of the group, "Flux", meaning "continuous change", hints at an optimism that, no matter how dire our socio-political conditions might become, nothing is permanent. The bass-less core of the group is saxophonist David Binney and pianist/keyboardist Matt Mitchell, with drumming duties split between Kenny Wollesen and Nate Wood. They are joined on various tracks by a handful of guest musicians including trombonist Ryan Keberle and trumpeter Matt Holman.
PoT is profoundly heavy music with a staggering amount of commitment behind it, evident from the complex compositions, arrangements, and playing. Flux stretches out within these extended and multi-layered jams – a mere 6 tracks run over 2 hours – leaving the listener with an epic Beowulfian journey's sense of completion at its end. All of the elements I love about the longform works of Charles Mingus, George Russell, or John Coltrane are present on PoT: thematic development, improvisational prowess, melodic richness, masterful arranging, pan-genre, and harmonic depth.
This is an important set of pieces expertly composed and performed for our time. One could, and should, spend considerable time with PoT and discover new stratums of excellence with each visit. Bravo, Flux.
learn more at Whirlwind Recordings and buy at your local record store, bandcamp, or Amazon
Jon Lundbom & Big Five Chord – Harder on the Outside (Hot Cup Records)
Halfway through its second decade as a band, Jon Lundbom's Big Five Chord have taken a new approach to composition. Guitarist Jon Lundbom and saxophonist Bryan Murray worked with samples from previous Big Five Chord tunes and other Hot Cup Records-released source material, crafting them into beats around which new tunes were created. Then saxophonist Justin Wood, bassist/producer Moppa Elliott, and drummer Dan Monaghan were brought in to flesh out the material, resulting in Harder on the Outside.
According to the press release, "the title can be taken at least four different ways: (1) as metaphor for one's personality "hardening" with age; (2) as a political statement, about alienation due to rising fascism and xenophobia; (3) as a statement about purity in free/"outside" music/improvisation; and (4) as fact, that it's really hard to make an album when you live in Austin and the rest of your band is in New York." Regardless, Harder on the Outside is the sound of old friends having a blast making music, which ultimately is what it's all about.
The unique creative process used to produce HotO seems to have rejuvenated Big Five Chord seeing as all involved delivered terrific performances. It would come as no surprise to see this approach used more and more in the future, given the success here.
learn more at Lundbom's site and Hot Cup Records and buy at your local record store or Amazon
Christoph Irniger Pilgrim – Crosswinds (Intakt Records)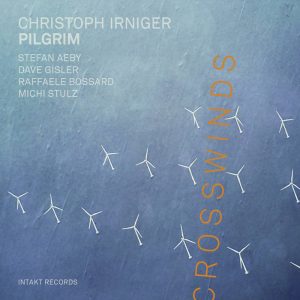 On their third album together as a quintet, Christoph Irniger's Pilgrim sounds as if they are judiciously exploring the two (or more) sides of the same coin: each piece is both bright and dark, spacious and crowded, heavy and light, subtle and evident, electric and acoustic, etc, etc.
In the disc's liner notes, Irniger explains, "Most of the music I write at the moment is about the duality or plurality in things… the compositions are mostly based on sparse materials, even if there are several parts. The idea is to have one story or context, and to show different emotions or pathways. Some is composed, some freely improvised, but always painted as a song." Irniger and comrades guitarist Dave Gisler, pianist Stefan Aeby, drummer Michi Stulz, and bassist Raffaele Bossard have crafted a poised artistic statement with Crosswinds…a statement that is made both loudly and quietly.
Like Newton's third law of motion or a delicious plate of food, Crosswinds is undeniably balanced, with compositions and playing that are both restrained and free, and the result is 100% appealing. This is some of the most engaging music to be released this year.
learn more at Intakt Records and Irniger's site and buy at your local record store, bandcamp, and Squidco
Miho Hazama – Dancer in Nowhere (Sunnyside Records)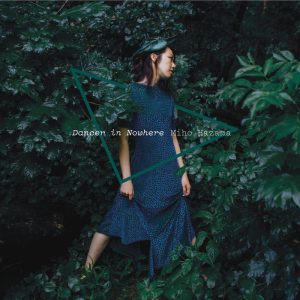 Miho Hazama is a skate park architect whose immaculate designs are with some of the most agile and daring athletes in the world in mind. Hers is the beautiful and inspiring space where art and science meet, a space once occupied by the likes of Duke Ellington or Gil Evans.
Quickly following up last year's impressive The Monk : Live At Bimhuis, Dancer in Nowhere is Hazama's third outing with her "m_unit", the celebrated and versatile 13-piece chamber ensemble. This set also features a top-shelf roster of guest talent including guitarist Lionel Loueke, saxophonist Steve Wilson, drummer Nate Wood and vocalist Kavita Shah. No surprise, the performances throughout DiN are at the highest level of technical excellence and Hazama's tunes and arrangements are magnetic. The title track and album closer is especially ebullient, featuring dizzying pyrotechnics from drummer Nate Wood. Describing the musical expressiveness on display in the track, Hazama said, "There are times when you feel something, but you can't really describe it in words… I started wondering if I could somehow describe this through music. Not necessarily a struggle or something negative: it could be happiness, fear, passion, energy. The challenge of capturing these things became a theme for me."
It continues to be encouraging to see a gifted artist putting out work that improves upon his/her previous work. It seems as though, nearly a decade into an already remarkable career, Hazama is just getting started.
learn more at Hazama's site and Sunnyside Records and buy at your local record store, bandcamp, or Amazon