Hifiklub – E Lisboa (Shhpuma Records)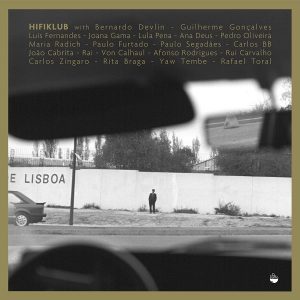 Having already shown proficiency in collaboration with high profile acts likes Lee Ranaldo, Christian Fennesz, and Mike Watt, French ensemble Hifiklub turn their sights on the exceptionally resourceful and varied Portuguese music scene. Thus was born E Lisboa, an album the tone of which approaches Crime and the City Solution or early Bad Seeds territory, which also happens to be precisely my headspace of late.
Guitarists Jean-Loup Faurat and Nico Morcillo, bassist Régis Laugier, and drummer Anthony Belguise have brought aboard a wide array of talent from the western Iberian Peninsula including Rafael Toral, Bernardo Devlin, Carlos Zingaro, and experimental duo Von Calhau to concoct an inspired document of pan-genre exploration. To paraphrase the inimitable Os Mutantes, it's time now for me to learn Portuguese…so I can understand the lyrics on this record. Regardless, there is an emotional depth to the work here that is undeniable, culminating in the idyllic wash of the album closer "Continuar Sem Fim", of which I could use at least an additional hour.
Shhpuma have become one of the most reliable hosts of excellent new sounds from around the globe and the release of E Lisboa is no exception. Incidentally, there are some very cool session videos on Hifiklub's website that are worth checking out to experience some of their recording process.
learn more at the cool Hifiklub site, Clean Feed Records, and Shhpuma Records and buy at your local record store or at Squidco
Alister Spence and Satoko Fujii's Orchestra Kobe – Imagine Meeting You Here (Alister Spence Music)
Just a handful of months after the release of the terrific collaboration Intelsat, Alister Spence and Satoko Fujii return with Imagine Meeting You Here, this time backed by Orchestra Kobe and captured at the Big Apple jazz club in Kobe Japan.
Penned by Spence as part of his doctoral work, IMYH is a five-part composition for improvising orchestra and it is a stunning amalgam of so many of the things that intrigue about music making in the 21st century – it has teeth, it leaves ample room for thoughtful improvisation, it is the result of teamwork on a large scale, and it throws the notion of genre to the wind. As Spence has said, "I was trying to create what I considered to be a balanced work in terms of energies and weight, tempo, rhythm, my ideas versus the ensembles ideas". He has achieved just that, utilizing to great effect the considerable talent and dedication of Fujii and the Orchestra Kobe.
It is safe to say that the Spence / Fujii partnership is a winning combination, and bringing in Orchestra Kobe is a homerun that seems to come around only once in a lifetime. If you are a fan of the large-scale works of George Russell, Gil Evans, or Charles Mingus IMYH will most likely be your bag.
learn more at Alister Spence Music and buy at your local record store, CD Baby or Amazon
Lansing McLoskey / The Crossing – Zealot Canticles (Innova Recordings)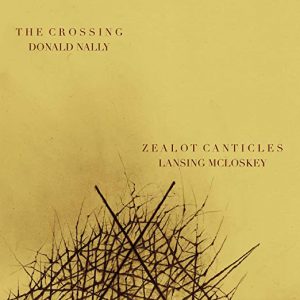 If I had to name one category of music that thoroughly compels me, it might be religious. From Sufi music of Damascus to Washington Phillips, and from the Alabama Sacred Harp Convention to a muezzin's call to prayer in Chefchaouen, Morocco, there is an unrivaled passion and certainty in delivery that only faith can bring.
Lansing McLoskey conveys this sense of conviction on Zealot Canticles, a collection of 20 hymns of sorts, with libretto from the work of Nigerian human rights advocate and Nobel Prize winner, Wole Soyinka. Composed by McLoskey during the 2016 US presidential campaign and election, ZC is effectively a prayer of tolerance, denouncing religious and political fanaticism: a meditation on the fine line between piety and extremism. The music is at times energized, contemplative, enchanting, and jarring. It is also always stunning. Devotedly performed by commissioning chamber choir The Crossing, and conducted by Donald Nally, ZC is no doubt a profoundly spiritual work, and one that gains in depth with each successive listen.
McLoskey has created imperative art for 2019, as we see hate crimes on the rise and a general sense of entitlement for extremists to say or do whatever they please, and with impunity. If great artists are supposed to be the voice for the greater good of a harmonious society, McLoskey is certainly doing the work of a great artist.
learn more at Innova Recordings or McLoskey's site and buy at your local record store or Amazon
Yonathan Avishai – Joys and Solitudes (ECM Records)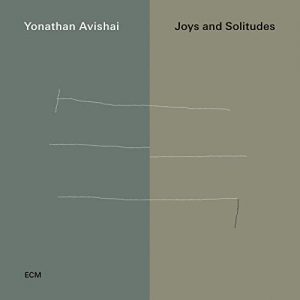 Now more than ever, I am drawn to music that is efficient in content and delivery: less has become more in a profound way, particularly when presented succinctly. So, when pianist, composer, and longtime friend and collaborator with trumpeter Avishai Cohen, Yonathan Avishai says, "I saw at some point that I become more expressive with less notes", my interest is piqued.
Turns out, he is speaking truth, as evidenced by his new trio release, Joys and Solitudes. His "Modern Times Trio", featuring bassist Yoni Zelnik and drummer Donald Kontomanou, is the perfect vehicle to bring this minimalist vision to life. All the tunes are Avishai originals save for Ellington's "Mood Indigo", of which the trio takes ownership through the magical process of reduction. Perhaps, as he has suggested, this aesthetic was inspired by his early exposure to kabuki theater while growing up in Japan. In any case, although minimal, Avishai's approach on JaS is also decidedly cosmopolitan, which in the wrong hands can spell disaster. Fortunately, the trio's are the right hands, lovingly presenting, as the title suggests, the range of emotion.
ECM is the perfect home for Avishai and JaS, adept as Manfred and co have always been at investigating artistic minutiae with a microscope. More of this, please.
learn more at ECM Records and buy at your local record store or Amazon
Gerald Cleaver, Nels Cline, and Larry Ochs – What Is To Be Done (Clean Feed Records)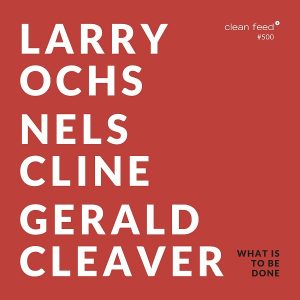 It's interesting when three master musicians convene in the recording studio for the first time, particularly when it's a 100% improvised date. What will the mood be? Who will take the lead? Will they listen to each other? Will it be any good?
The three masters in question are Detroit drummer Gerald Cleaver, perhaps known best for his playing with Henry Threadgill or Craig Taborn, Larry Ochs of the ROVA saxophone quartet, and ubiquitous guitarist Nels Cline. Three pieces were recorded in Richmond, Virginia at Gallery5 Arts in late 2016, two of them longer than 20 minutes each. This is not Sunday morning music, which is good because most of the time it is not Sunday morning. What Is To Be Done is primarily a ripping collection of cathartic improvisation, no surprise when titles such as "Outcries Rousing" adorn the back cover. Abundant shredding aside, there is a cohesion to this trio that can only come from reactive listening, plus Cleaver is unafraid to lock into a groove from time to time, which is a plus in my book of improvisation dos and don'ts. (It is worth noting that I have neither sold a single copy of this book, nor bothered to write it.)
Although I dig WITBD as the high-energy and downright exciting result of spontaneous expression, I would be curious to hear these three in a more composed setting. Hint, hint fellas.
learn more at Clean Feed Records or Larry Ochs site and buy at your local record store or Squidco or Amazon